Sergeant Stubby - Dog
Sergeant Stubby was the official mascot of the 102nd Infantry Regiment (US). Stubby was found on a ship after a young soldier had stowed him away. The brave pup was assigned to the 26th (Yankee) Division during WWI and saved lives.
His sharp ears and nose not only allowed him to find injured men on the battlefields but also detect and alert to mustard gas attacks. This ability once saved an entire company when Stubby alerted them to put on their gas masks. Allegedly the small dog once caught a German soldier by his trousers and managed to hold him until American soldiers found him - the story was reported by the New York Times.
Stubby is likely the most decorated war dog and the only one to be nominated then promoted to sergeant. He served for 18 months in total, taking part in 17 battles on the Western Front.
Cher Ami "Dear Friend" - Pigeon
Cher Ami (which translates to "dear friend") was a homing pigeon donated by the UK to the US Army in WWI as they fought in France. A group of over 550 men were trapped in a depression on the side of a hill, behind enemy lines without food or water. They were surrounded by German troops. Their fellow-men also did not know their location and were accidentally attacking them.
The men's numbers began to decrease as they were killed or injured. Two pigeons sent with messages were quickly shot down, Cher Ami was one of the last to be released. She successfully delivered her message but was shot as she flew back to the soldiers. Despite this, she returned to them and her successful delivery stopped the friendly fire.
She was awarded several medals for saving the men. US medics were so grateful that they carved her a new leg after she lost it during the event.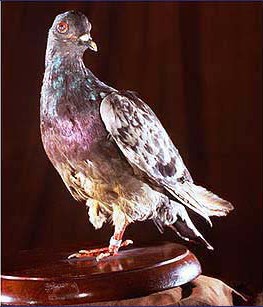 Wojtek - Bear
Wojtek was purchased as a young cub from an Iran railway station by Polish soldiers in WWII. The bear would embark on an incredible journey with the men who enlisted him as a soldier to provide for his rations and transportation.
Starting as a private he was promoted to corporal. Wojtek was a comfort to the men who treated him like a fellow soldier and even taught him how to salute. As he grew, Wojtek began helping them to move heavy loads of ammunition.
While stationed in Gaza Wojtek would cool down by sneaking into the bathing tent and turning on the shower. On one occasion, it is said he startled an opposing troop who was lurking in the tent. The man screamed, leading to his capture.
After the war, Wojtek was sent to Edinburgh Zoo in Scotland where he was well taken care of and spent his retirement. A statue dedicated to him can be seen at Princes Street Gardens.

Warrior - Horse
Warrior was the horse of Captain Jack Seely during WWI. Together they travelled with the British Expeditionary Force and both made it home again in 1918.
Warrior became well known for being incredibly resilient, gaining her the title "The horse the Germans could not kill". Warrior and Seely fought through some of the deadliest battles of WWI at both Somme and Ypres. While many other war horses perished, Warrior almost always came out unscathed.
She was posthumously awarded the Dickin Medal 100 years later, referred to as the animals VC.
While the below image doesn't show Warrior it does show a similar British cavalry horse and soldier.