Elsie Maud Inglis
Elsie's efforts had a massive impact on thousands of lives during WWI. For starters, she was the founder of the Scottish Women's Hospitals which arranged for groups of nurses to travel to the frontlines to treat allied soldiers during the First World War. Although she was initially told to "go home and sit still" by the war office, by 1918, her organisation had seen 14 medical units outfitted and sent to Corsica, France, Malta, Romania, Russia, Salonika, and Serbia.
Before the war, Elsie was passionate about women's health. Standards of care for women were very poor at the time and so to improve conditions, she opened a maternity ward for Edinburgh's poor, staffed entirely by women. Although she passed away only aged 53, Elsie's life had a very positive, life changing impact on many.
If you'd like to learn more about Elsie Inglis we have two more blogs sharing the story of this incredible woman.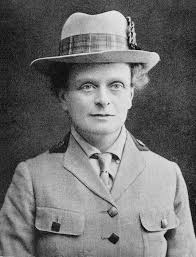 Mrs. Mary Barbour
While most husbands were fighting on the frontlines during WWI and citizens flocked to cities for work, opportunistic landlords took the chance to hike up rents. They did this not only due to the demand for housing but because they thought women were easy targets and wouldn't resist. The practice was particularly prominent in Glasgow and many were unfairly evicted because of it.
Fortunately, Mrs. Mary Barbour wouldn't stand for this malpractice and led an entire movement in opposition to the rent increases. The brave mother of 2 set up the South Govan branch of the Glasgow Women's Housing Association and built an army of activists. Together they protested and were successful in having several unfair evictions dropped and the 'The Increase of Rent and Mortgage Interest (War Restrictions) Act, 1915' was brought into place.
As for Mary, she became one of Glasgow's first female Labour councilors as well as an inspiring reminder to always stick up for what you know to be right.
Catherine Hogg Blair
As a Suffragist, Catherine Hogg Blair from East Lothian believed passionately in equal rights for women. Hence, she assisted fellow female activists in any way she could.
Taking direct action, Catherine founded the Scottish Women's Rural Institute which taught women new skills. It aimed to help poor women from rural areas realise their full potential. As suffragettes passed by her family's farm on their way to demonstrations in London, Catherine opened her doors to them. She provided them with food as well as a place to rest. She also provided refuge to exhausted suffragettes who had just been released from prison after being part of a hunger-strike.
With her initiative, Catherine helped many and assisted in achieving the rights that women value today.
Miss Georgiana Fyfe
Georgiana, from Glasgow, was the Girl Guide's commissioner for the West of Scotland before WWI, but quickly signed up to Dr. Hector Munro's Flying Ambulance Corps in 1914.
From there she was sent to Ypres in Belgium where she worked among the civilians. Georgiana had a big heart and as Christmas approached that year she couldn't help but think of the refugee children. So, using her links to the Girl Guides, she started a fundraiser to buy them gifts. This saw large shipments of presents leave Leith which likely brought a smile to many children's faces that December.
In 1915 Georgiana saved thousands of lives. She evacuated around 1,000 civilians from Ypres with her team and helped to evacuate roughly 1,300 children to France and Switzerland. Her team also financed four hospices.
For Georgiana's incredible work, she was awarded the Croix de Guerre and the Ordre de Leopold. Humbly, she returned to the Girl Guides after the war and also adopted one of the orphaned children.