Described by her mother as one of the most intelligent babies she ever met, with a warm smile and hearty giggle to greet everyone. Elsie was full of character since the day of her birth, entering the world on August the 16th, 1864 in the Himalayan resort town of Nainital, India. Though originally from Inverness, Scotland her father worked for the East India Company, where her mother moved to join him.
After Elsie's father's retirement the family returned to Scotland, settling at 70 Bruntsfield Place, Edinburgh. Here Elsie returned to school, being in the top English class as well as joint editor of the school magazine. Unlike today, it was not common in all-female schools to allow the children to get some fresh air at break time. Bravely, a young Elsie brought this forward to her school's board who told her that the girls may play in the Charlotte Square Gardens but would require permission from the residents. Inspirationally to her classmates who couldn't believe how courageous she had been, a determined Elsie knocked on all the local residents' doors and returned triumphant in her endeavours.
In order to further her education, her parents decided to send Elsie to a private school in Paris and after returning home a few years older, Elsie had a sense of latent ability about her. Whilst there, she had made some friends for life, one who wrote of Elsie stated; "Ever since the Paris days of '83 her strong loving help was ready in difficult times, and such wonderfully strengthening comfort in sorrow."
Sadly, shortly after her return her mother passed away from scarlet fever and Elsie found herself as her father's sole comforter. The following excerpt was found in Elsie's desk which describes how she was feeling at this moment in her life.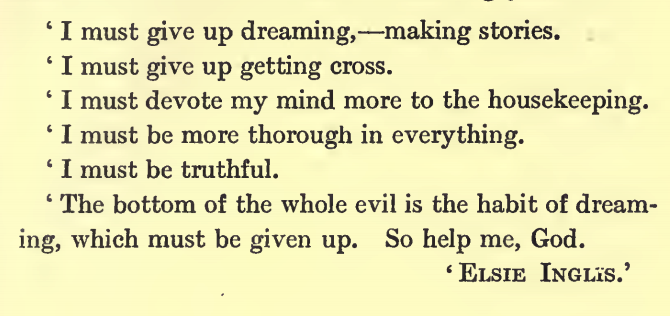 Despite the heartbreak, the two pulled through and Elsie announced to her father that she would like to pursue medicine which he wholeheartedly supported. And so she began her first medical teachings at the Edinburgh School of Medicine which led her to further education at the University of Glasgow. However, it was not without its trials and as a Suffragist, Elsie had to fight many times to receive a fair education during a time where women were expected to become wives, not doctors.
By 1892 she had passed her course with flying colours. As a newly qualified doctor, Elsie managed to get a position working at the Elizabeth Garrett Anderson Hospital for Women in London which was just a general hospital at the time. Appalled by the level of care for female patients she had witnessed at the hospital, with the driving determination which she had always had, Elsie knew she had to make a difference.
This led Elsie into the next eventful chapter of her life where she decided there needed to be all female run hospitals. So, she set forth and teamed up with another female physician to open their own medical practice. Ten years later in 1904, she set up her own small maternity ward for Edinburgh's poor staffed entirely by women.
Overall, a hard worker, Elsie did not let anyone get in the way of the things she knew she needed to achieve. She had already shown so much fortitude in her early life. However, this was only the beginning and Elsie would go on to touch many more lives after the outbreak of World War One.
As this year marks the centenary of World War One, we would love to see a statue erected to commemorate this remarkable woman who made such a difference in her lifetime. Find out how you can help #statueforelsie